Giving to World Team Now
It Takes a TEAM
Donate your (T)ime, (E)energy, (A)ction, (M)oney to help us achieve World Team Now!  Take Action and do something -spend the Energy to help us.  Join us — we are growing! There are many ways you can be part of the team; Follow our adventure through the blog, become a volunteer, make a donation, or collaborate as a partner, and join our Friends and Allies' programs. 
Below are some of the ways you can donate Money.
Donate with Paypal to WTN
Give a Charity Gift Card for WTN

Consider giving a  charity gift card  from  Network For Good –  you choose an amount to give to a charity, and the recipient gets to  choose the Charity .  World Team Now is one of the charities that can be chosen.
Search for  WTN
  Support World Team Now when you search the web or shop online with Goodsearch and more!
e-Bay's Giving Works!
World Team Now is part of  eBay's "Giving Works." Here is a way to promote   your product or service and give at the same time. eBay customers can bid on your selected item(s), and  you  decide how much of that item's final purchase price is set aside for World Team Now.  Please join us by either posting an item for auction or purchasing an item or service .
Food Shop for WTN
Did you know that you can donate to WTN with your Ralph's Rewards Card? Click here for more details. Those of you already registered, you need to re-register for every year –  the cycle starts September 1st.
Our ID: PNO #93435
Donate Credit Card Points = $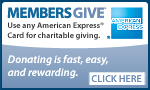 American Express has teamed up with Just Give  to allow donation of points
Amazon for WTN